It's Monday!!! We are linking up today with Lowercase Letters for the first time!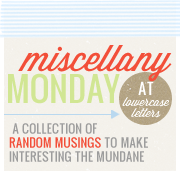 Here are my random thoughts today:
1. My family is heading over to Fort Bragg this weekend and I really wish my sister and her family could join us. We always have such fun times together!
2. My dog Landon....No matter what we do to try to make him a nice little house dog this is what we get every time he is let outside!
3. I plan on making meatloaf for my family tonight. It's my husbands favorite, I made it a few weeks ago but my husband was out of town so he missed it. It turned out REALLY good and my son loved it. I know it will be something I make often! I got this recipt from Pinterest
http://howtonestforless.com/
So Yummy
Ingredients:
1 lb ground beef
1 cup bread crumbs (or oatmeal)
2 tbsp garlic powder
2 tbsp of BBQ sauce
1 egg
Diced celery
Diced green pepper
2 dashes of Worcheshire sauce
Salt and pepper
Sauce topping:
3/4 cup of BBQ sauce
2 tbsp honey
Directions:
Mix all ingredients together for the main meatloaf (I use my hands to mush it all up). Shape into rounded loaf and place in covered roasting pan. Mix BBQ and honey in separate bowl for the special sauce topping and pour over meatloaf.
Bake in covered dish at 350 degrees for 1 hour.
Like I mentioned, I like this version of my Grandma's meatloaf with some celery and green peppers mixed in. My 4 year old daughter didn't even notice… BONUS!
Hope you enjoy!
4. Found this very cute picture on a blog that I was visiting and this is exactly what my sister has been thinking about doing! Just wanted to show the simple one. If you want to see more pictures and a really cute blog check it out here...
http://www.everydayeverharts.blogspot.com